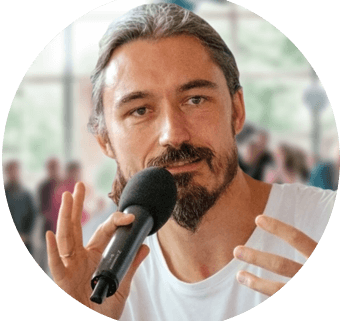 Date
26/07/2019 - 04/08/2019
Location
Hof Oberlethe, Wardenburger Straße 24 , Wardenburg, Germany
Organizer
Celebrate Life Festival
welcome@celebrate-life.info
+49 4407 3148913
Now in its 16th year, the Celebrate Life Festival, which will be held from July 26 to August 4, 2019 at Hof Oberlethe near Oldenburg in Lower Saxony, has grown to become one of the largest consciousness events of its kind in Germany with international appeal. The number of visitors to the Celebrate Life Festival increases annually and currently stands at more than 1300 participants from 26 countries.
To learn more about the Celebrate Life Festival and its unique composition and flavor, visit our history page.
We all associate 'home' with something special – a place, a certain time, a smell, the family, an attitude of mind or tradition, a very subjective feeling of familiarity and belonging. Often, there is also a longing for something lost. Home may be something different for everyone and at the same time a deep collective feeling.
 At this year's festival, Thomas Hübl and the guest speakers will explore the question of what home means in a dynamic process, and how we humans as cultural beings continually recreate home in our consciousness.
Home has many facets. In addition to the spatial dimension, home can also be experienced temporally, socially, culturally and spiritually. The German word that characterizes these aspects, Heimat, is difficult to translate into many languages, since it not only suggests a place of origin, but an entire attitude toward life. To be at home means on the whole: to be safe and embedded, to take a place, to have stable contact, to relax in something – in the best case in myself, in my family, the home country, the home planet and finally, in the eternal now, in the presence. The inner anchoring of feeling at home is not possible for many people who are often traumatically injured. Yet, it is particularly important in times of globalization and digitalization, migration and climate change, in order to be able to deal adequately with the changes in our society and our environment. What does it mean to have a home and at the same time be at home in change, and to be at home in the eternal interplay of life – stability and change? "Only those who are at home in themselves are ready for change," says Thomas Hübl, the initiator and host of the Celebrate Life Festival. The 2019, 10-day non-profit event will take place for the 16th time, again at Hof Oberlethe in Northern Germany.
A cosmopolitan understanding of home
Home is not a counter-trend to globalization. It is a worldly understanding and experience of home, with a natural sense of responsibility for people, the earth and the pressing problems of our time.
For more information and registration: Celebrate Life Festival 2019
https://www.komalaamorim.com/wp-content/uploads/2019/05/thomas-huebl3.png
341
341
Komala Amorim
http://www.komalaamorim.com/wp-content/uploads/2017/09/logo-300x138.png
Komala Amorim
2019-05-11 21:51:25
2019-05-11 22:07:32
Celebrate Life Festival (Thomas Hübl) - Being at Home in a Changing World